Silvana Chilelli is the Chief Executive Officer of Eurizon Capital Real Asset, the asset management company of Intesa Sanpaolo Group specializing in private alternative asset classes focused on the real economy.
Prior to this, she was head of Alternative Investments and Special Projects in the Insurance Division of Intesa Sanpaolo. She was responsible for developing all the alternative asset classes: Private Equity, Credit, Infrastructures and Real Estate.
Silvana spent many years in New York as an investment banker for JPMorgan and Merrill Lynch. She also managed the Strategy and Corporate M&A group for Deutsche Bank, North America, and served as a strategic consultant at McKinsey.
She received the "Fund Manager of the Year" award from the "Women in Finance 2018 Italy Awards" committee. She was included in the "Top 50 of Finance" ranking in Italy.
Silvana Chilelli is a former Board Member of Cargeas Assicurazioni, Intesa Sanpaolo Assicura, Valore D, and Filarete.
She holds an MBA from Columbia University, New York with a Beta Gamma Sigma award and a cum laude bachelor's degree in Economy & Commerce from the University of Pavia.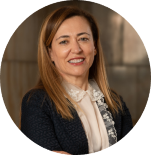 Silvana Chilelli
Chief Executive Officer at Eurizon Capital Real Asset