Richard Sabo is a founding partner of Spruceview Capital Partners, where he serves as Chief Executive Officer and Co-Chief Investment officer. He is responsible for leading and managing Spruceview and overseeing all investment activities.
Mr. Sabo has over 39 years of institutional investment management experience. Prior to forming Spruceview, he served as Chief Investment Officer of JPMorgan's Global Pension and Retirement Plans managing over $40billion in assets and was a member of JP Morgan's executive committe. Prior to joining JP Morgan, Mr. Sabo was Chief Executive Officer and President of Founders Asset Management LLC. In addition, Mr. Sabo's prior experience includes senior management roles at Prudential Securities and Tucker Anthony.
Mr. Sabo holds a B.A. from Syracuse University. He is a fellow of the David Rockefeller Foundation, and former board member of the Denver Children's Hospital and of the New York Botanical Garden.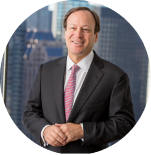 Richard Sabo
Partner, CEO & Co-Chief Investment Officer Spruceview Capital Partners