Since March 2022, he has been an investor and advisor in various energy projects: director and investor in Ence Biogás, operating partner of Ardian, director of Greenyellow, member of the Advisory Board of Acideka, non-executive chairman of Hygreen Energy, and member of the investment committee of Santander InnoEnergy, a venture capital fund.
CEO of Enagás from 2012 to 2022, when he actively led the company's internationalisation process that began in 2011, exporting Enagás' leadership in energy infrastructure.
In the context of the energy transition, he pioneered initiatives to promote the use of hydrogen and other renewable gases in order to move towards decarbonisation and promote innovation within the company in these areas. He led the development of Enagás Emprende, the company's corporate entrepreneurship and open innovation program.
Born in Madrid in 1969. He is a registered Industrial Property Agent, holds a degree in Industrial Engineering from the Universidad Pontificia de Comillas (ICAI) and has also completed the "Global CEO" and the Advanced Management Program at IESE Business School, as well as the Singularity Executive Program and INSEAD's "AVIRA" program.He was formerly general secretary of the Spanish Confederation of Young Entrepreneurs' Associations. Founder of DEF-4, a patent and trademark company. He has advised other companies in their international and strategic development and has held senior management positions in EMTE, S.A. (now COMSA) and ALDEASA (now DUFRY). He was a member of the European Parliament from 2002 to 2004. He has also been a member of the board of directors of Ente Vasco de la Energía (EVE) and was chairman of FEVE (Ferrocarriles de Vía Estrecha) in 2012.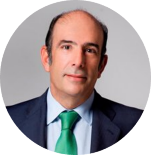 Marcelino Oreja
Chairman HyGreen Energy, Enagas Former CEO