Luiz Felix is Head of Global Asset Allocation in Santander Asset Management (SAM), leading its Strategic Asset Allocation (SAA) and Tactical Asset Allocation (TAA) efforts.
Luiz has worked in financial markets since 2001, starting his career as a fixed income portfolio manager in Brazil. During 2005-2008 he was a cross-asset quantitative strategist at ABN AMRO Asset Management in Amsterdam. In 2008 he joined the Multi-asset group of APG Asset Management in the Netherlands, one of the world´s largest pension investors. At APG, he has incepted and successfully run TAA mandates for over a decade, as well as managed a range of derivative overlay strategies and hedge fund portfolios. He is an earlier adopter of the usage of natural language processing (NLP) and machine learning in his research besides thought leader on defensive strategies and artificial intelligence in investing.
Luiz holds a PhD in Finance from the VU University Amsterdam and has published papers in behavioral and quantitative finance in reputable journals.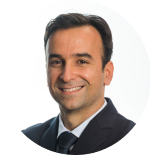 Luiz Felix
Global Head of Asset Allocation in Santander Asset Management (SAM)