Lara de Mesa is Global Head of Responsible Banking at Santander since September 2018. From this position and reporting to the Global Head of Strategy and Head of the Executive Chairman's Office, she leads the function that sets the ESG strategy and goals.
Non-Executive Board member of Fundación Santander Portugal and Inclusion Financiera –Tuiio- México, since 2022. Scientific Board Member Real Instituto Elcano
Lara is a member of the UNEPFI Principles of Responsible Banking 2030 Core Group, IIF Sustainable Finance Steering and EBF CSO roundtable. She is IE faculty member on Sustainability.
Msc in Economics, London School of Economics and Political Science (LSE, UK), Advanced Studies Diploma and Bachelor´s Degree in Economics from Univ. Complutense Madrid, Spain.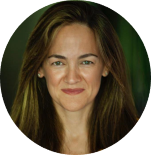 Lara de Mesa
Global Head of Responsible Banking at Santander