Jesús Martín del Burgo is the global head of Institutional and Third-Party Distribution at Santander Asset Management (SAM).
Prior to joining SAM, he worked for DWS (Asset Management arm of Deutsche Bank Group), where he spent around 16 years in senior positions, most recently as head of Client Coverage for Latin America and member of the Senior Leadership team for the Americas. Previously, he served as Senior Institutional Sales for Latin America and Head of Product Management for Iberia & Latin America.
During his tenure at DWS, he also worked as Academic Co-Director at IEB School. Prior to that, he worked in equity sales and as an investment consultant at several firms.
Jesús holds a degree in Business Administration from Universidad Autónoma de Madrid and an Executive MBA in Banking & Finance from IEB School in Madrid. He also holds a master's degree in Portfolio Management - Asset Management from IEB School.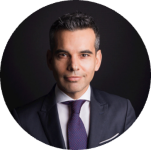 Jesús Martín del Burgo
Global Head of Institutional and Third-Party Distribution