She is a graduate in Mathematics from the Autonomous University of Madrid, Rosa García has more than 30 years of experience in multinational environments in such industries as energy, infrastructure and information technology.
She was Director of Corporate Strategic Projects at Microsoft in the US, working with CEO and President Steve Ballmer, and was President of Microsoft Iberia for 8 years.
In 2011, she joined Siemens as Chairman of the Board of Directors in Spain, a position she held until 2018. Rosa also has more than ten years of experience in non-executive positions in IBEX companies such as Banesto, Acerinox and Bankinter. She is currently chairwoman of Exolum and member of the board of directors of Mapfre, EDPR and Sener.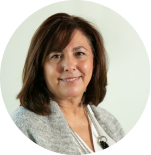 Rosa García
Chairwoman, Exolum